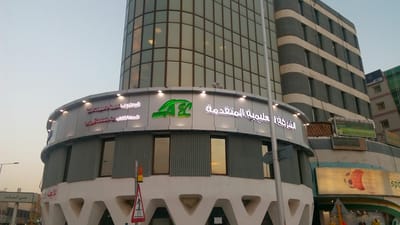 THE ADVANCED EDUCATION CO. FOR EDUCATIONAL AND ELECTRONIC SERVICES IS ONE OF THE LEADING COMPANIES IN SAUDI ARABIA, WHICH BASED ON MARKETING ITS LATEST ADVANCED TECHNOLOGY SYSTEMS IN THE LOCAL MARKET.
THE COMPANY OFFERS COMPREHENSIVE SOLUTIONS TO COVER ALL REQUIREMENTS IN THE FIELD TEACHING AIDS, ELECTRONICS, e-LEARNING, PROCESSING AND IMPLEMENTATION OF LANGUAGE, COMPUTER LABS AND TESTING LABS.
THE ADVANCED EDUCATION COMPANY MAINTAIN THE LEADER IN THIS FIELD THROUGH THE QUALITY OF OUR PRODUCTS ,COMPETITION IN PRICES, OUR ABILITY TO PROVIDE SKILLS AND COMPETENCES AND HIGH LEVEL OF TECHNOLOGIES AND TRAINED ENGINEERS.
OUR PRESENCE DEPENDS ON INTRODUCING NEW TECHNOLOGIES AND EVOLVING RAPIDLY AS WE RELY ON KEEPING UP WITH DEVELOPMENT.